I
t's a Local's dream
- imagine waking up and finding yourself in the middle of a feast of more than sixty-five different kinds of poke, all just waiting for you to taste!
Actually, it's not a dream - it's the
Aloha Festivals Sam Choy Poke Contest
which will take place at the Hapuna Prince Hotel
on Sunday, September 21. On that day, finalists selected from both amateur and professional chefs from all over Hawai'i, as well as the mainland and the Pacific, will vie for the honor of being chosen "The Best" in such variegated categories as "Best in Show," "Best Ogo," "Best traditional," "Best Cooked Poke," "Sam's Favorite," and many others. Prizes include sizable amounts of cash plus mainland vacations at locations that, in the past, have included Vancouver and Seattle. This is the sixth year of the contest which began in Waimea in an army tent in the middle of the town ball park. The contest is free to the more than four hundred people who attend. It has come a long way from its humble beginnings. Its story tells us much about poke - one of the last truly Hawaiian foods and the people who have been involved in its evolution.
THE FISH
"Poke is the slicing or cutting of raw, fresh fish into cubes or bite-size pieces. Today, it is loosely translated to mean a marinated Hawaiian dish or either raw, seared or cooked seafood."
-SAM CHOY'S POKI CONTEST

Not too long ago, poke was a traditional Hawaiian food, prepared at home for the family and also for lu'au and other celebrations. It was a practical and simple way of preparing raw fish in a warm, semitropical climate when refrigeration was unavailable. Hawaiians developed several ways to cook or preserve fish, an important source of protein in their diet. Fish not cooked in an imu, broiled over coals or boiled in gourds by adding red-hot stones, was preserved by salting and drying, Another favorite preparation, the origin of today's poke, involved salting and seasoning of raw fish that had either been massaged (lomi) or, in the case of larger fish, cut into bite-sized pieces. Traditional seasonings for this form of poke included seaweed or limu, roasted ground kukui nut or 'inamona, and seasalt or pa'akai. The green onions, chili peppers and shoyu that have now become typical o f modern poke were not available to Hawaiians before Western or Asian contact.

One of the greatest changes in the modernization of poke has been the greater variety of fish that is now available to the consumer and the distances it travels to our markets. Traditionally, the majority of fish came from the shoreline and reefs. It was supplemented by fish cultivated in salt water and fresh water ponds. The availability of different fish was insured by careful conservation. Grounds were protected from over fishing and a kapu system prevented catching fish during their spawning season. Fishes like the weke, kole, manini and palani were plentiful and used more than the ahi, aku and marlin which we have become accustomed to seeing in the markets today.

Although the preparation of traditional poke appears deceptively simple, great skill was required, Salt was essential, both for preservation and taste. Knowledge of salt gathering and preparation from locations along the seashore was passed down in families from generation to generation. Even today, different places in Hawaii are valued for the quality and taste of the salt they produce; especially prized is the salt from Hanapepe, Kaua'I, with it's rust color, and the salt from Ka'ena Point on 0'ahu for its purity. Drying and cleaning of the salt are time-consuming and were once an important part of the Hawaiian lifestyle.

Equally valued as a condiment and a major part of the taste and nutritional value of traditional poke was seaweed or limu. In pre-contact days, Hawaiians depended greatly on seaweed for its nutritional value; they had names for more than eighty different types, although in recent times, no more than fourteen have been harvested. Limu kohu, the type of seaweed most often used for poke, is still gathered by independent fishermen who collect the seaweed at secret locations along the coastlines. A soft, reddish-brown seaweed with a distinct marine or iodine scent flavor, limu kohu is generally found only in roughwater areas and is dangerous to collect when it is exposed at low tide. After gathering, limu is carefully and painstakingly cleaned to remove the tiny rocks, sand and pieces of coral that are lodged in its branches. Gatherers who brave surf and coastline waves are the primary sources of supply for Hawai'i's markets which anxiously await their periodic telephone calls with offers of fresh limu kohu.

The third and final ingredient for traditional poke is 'inamona roasted, ground and salted kukui nut which adds balance and a nutty flavor to the fish. The kukui nut (candle nut) tree was brought from the South Pacific by early Polynesian settlers. Before the development of sugar plantations, the forests along the wet, windward coast were covered with trees which rose to heights of ninety feet. The nut has many uses including fuel, light, oil, dye and medicine, as well as flavoring. Although kukui nut trees have become less abundant, 'inamona is still made commercially by a small number of companies such as Kukui Nut Products in Panaewa.

Modern poke has evolved from this traditional form. A wide variety of fish and flavorings are now available for the consumer. In Waimea at KTA and at Sure Save supermarkets, almost two dozen types of poke are marketed every day, most based on ahi, aku and marlin with different flavor combinations. In addition, imported blue crab, mussels and tako, or octopus, have also become popular, Customers unaccustomed to traditional poke are more apt to enjoy the varieties with the flavors of shoyu or kim chee. Beer drinkers crave the saltier combinations. Occasionally, traditional style poke made from 'opelu, tripe or beef liver poke (ake) is available - a treat for the true poke aficionados.
CONTEST BEGINS
In 1991, Gene Erger, a Waimea resident who has volunteered on countless occasions to help promote local festivals, and Sam Choy, a Big Island restaurateur whose name has become synonymous with local "Pac- Rim" cuisine, came up with the idea of a competition to promote poke. Both wanted to remind islanders of a food which is uniquely Hawaiian. They also wanted to spread awareness of this delicacy among Hawai'i's many visitors. The first contest, part of the Aloha Festivals Ho'olaulea, was held in a borrowed, green army tent on a hot, dry summer day in the middle of Waimea Park. Gene remembers the day was so windy that dust blew all over the contestants and their entries. "When you put down the flaps to save the food, you almost died of suffocation," he recalled. Volunteers were found to fan the food, the participants and the judges. Many people had said openly that the contest was a "foolish idea", doomed to failure, and so it seemed in the midst of the stifling heat. Though the contest was only publicized by a small newspaper announcement and word of mouth, there were still almost five hundred entries in that first year. Six local chefs participated. Sam Choy had agreed to sponsor the contest because he believed that poke was an important traditional Hawaiian food. He was "flabbergasted" by its unexpected success.

In the second year, the contest was given a prize budget of $800-900 and moved into the Waimea Community Center - definitely a step up from the borrowed tent. By 1994, more than a thousand recipes were submitted, creating an enormous logistical problem for its volunteer coordinators. In 1995, the Hapuna Prince Resort agreed to become the event sponsor, and the contest, with sixteen hundred and eighty entries, moved down the hill from Waimea, This year, in order to handle the volume of entries, preliminary qualifying events have been held, reducing the number of finalists to sixty-five. According to Glorianne Akau, the manager of the Aloha Festivals on the island of Hawai'i, the majority of entries will continue to come from the Big Island. "The poke contest began as a Hawai'i island event," she said in a recent interview, "and we want it to remain that way. It 'is for local people to come out and enjoy."
THE CONTESTANTS
Waimea has had its share of winners in the poke contest. In its first year, Maha Kran of Maha's Cafe in the old Spencer House, won the International Category for her "Ono Seviche with Mustard Dressing." In 1994, Thomas Aiu, another Waimea resident who was then working at Paniolo Country Inn, won first prize in the professional division for his entry, "Ahi Poke on Butter Lettuce with Ginger and Lime." And in 1996, Trini Castillo of nearby Kohala, won both the amateur and ogo categories.

In 1995, Kalei Bajo, co-owner with his wife Kalei, of the popular Kalei's Kama'aina Kitchen,
submitted a recipe that emerged from his childhood days in Hale'iwa, 0'ahu. "Tutu Wahine's Poke" was a mixture of reef and shellfish including humuhumu 'ele 'ele, uhu, wana, 'opihi and ha'uke'uke. Except for the limu kohu, it took Kalei two days of solid work to gather the ingredients. Just finding wana in the tidal pools near OTEC took five hours. After cleaning, he had only enough eggs to fill one baby food jar. The 'inamona he collected, roasted and prepared himself in order to achieve the finely ground consistency which cannot be produced commercially. The Hawaiian salt, pa'akai, was gathered by his mother at Ka'ena Point on 0'ahu.

In developing his recipe, Kalei drew upon the memories of his childhood spent in the company of his grandmother, gathering seaweed, reef fish and other seafood along the shoreline. He remembers holding the bucket while she caught 'opae and eating the tiny manini right from the sea after she told him not to worry because the bones were so small. His grandfather was an akule fisherman and the poke that Kalei creates has its roots in the fish and lifestyle of the 0'ahu seashore.

Kalei has entered the contest for two years. He and his wife remember the many contestants, judges and poke lovers they have met, as well as the excitement of being able to taste so many different preparations of raw fish. Even though he won't be competing this year, Kalei said he really hoped that the traditional style poke - like the ones his family made - will always be a part of the contest.

Another winner is a young professional chef who has been in Hawai'i only eighteen months. Dave
Dekker, sous chef at the Mauna Kea Beach Hotel, came for its reopening, taking over banquet and lu'au functions. Friendly and down-to- earth, Dekker loves being in Hawai'i and has learned a great deal in a short time in the islands. He first tasted poke at barbecues with his friends and learned about fishing for the prawns in his prizewinning recipe from other employees from the hotel who took him down to Waipi'o valley. For the contest he caught twelve pounds of prawns - a large quantity is needed for tasting by both judges and audience. Two other cooks from the hotel went with him back in the valley. For eight hours they were in the water collecting the elusive prawns. After cleaning and shelling, they ended up with only six or seven pounds for the recipe. Dave won in three divisions ~ Overall, Professional and Izuo brothers ~ for his "Waipi'o Prawn Poke." This year he's entering again with a recipe featuring ahi and nairagi. Summing up his experience as a poke creator and a relative newcomer, Dekker has learned that if you can make a good poki, you'll always make friends in Hawai'i.
POKE - WHEN IT'S NOT CONTEST TIME
If you're lucky enough to be at Sure Save on a day when Steve Enriques has made his Black Bean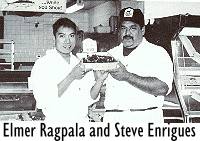 Poke, be sure to try his creation. This recipe was so good that Steve became a finalist in the 1995 Poke Contest. He didn't win, but his poke was so 'ono that the bowl was scraped clean. Since then, Steve has continued to create new recipes, some of which appear in the fish counter at the supermarket where he is now meat manager.

Across the street, KTA's meat manager, Scott Vierra, pumps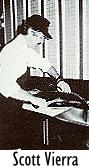 out a considerable amount a day of his poke, insuring that there will always be an ample supply of Hawai'i's "numbah one" popular choice for pupu.

Poke has evolved from the traditional style of food that was an essential part of the Hawaiian diet. The availability of new ingredients, combined with the extraordinary creativity of today's chefs has changed poke forever, For those who have not learned to make poke at home, the instant availability of so many different kinds in the supermarket has made it the local favorite for parties and pupu. This month's Aloha Festivals Sam Choy Poke Contest affords an excellent opportunity for both lovers of poke and the adventurous, but uncommitted, to come out and give it a try.
DAVE DEKKER
1996 Sam Choy Aloha Festivals
Poke Contest Winner Grand Prize,
Professional Division,
Overall and Izuo Brothers
2 pounds Waipi'o prawns, cut in chunks and frozen, then defrosted (see notes)
3 firm Waimea yellow tomatoes, diced
2 Maui onions, diced small
5 limes, zest and juice
2 habeneros peppers, seeded and very finely chopped (see notes)
1/2 cup sweet chili sauce
1/8 cup fresh ginger, finely chopped
1 bunch fresh cilantro
1 cup shoyu
2 tablespoons sesame oil

Combine all ingredients and chill.
Notes: Freezing the meat from the prawns is important in order to destroy any bacteria.
Habeneros are very strong peppers and must be handled carefully.
Wash hands immediately after contact with the skin, seeds or meat of the peppers.
Tutu Wahine's Poke
KALEI BAJO
1995 Sam Choy AIoha Festivals Poke Contest
Winner Grand Prize,
Amateur Division
1/2 pound humuhumu 'ele 'ele (see note)
1/2 pound uhu or 'aweoweo (see note)
1/4 pound Kona crab meat
1/4 pound limu kohu (seaweed)
1/4 cup 'opihi (see note)
I/8 cup chopped green onion
1/2 teaspoon 'inamona (see note)
1/2 teaspoon wana eggs (see note)
1/2 teaspoon ha'uke'uke eggs (see note)
1/4 teaspoon blood from gills of uku, or to taste
Hawaiian salt, to taste

In large bowl, combine all ingredients except blood and salt. Squeeze blood from gills of uhu and add to seafood mixture. Add Hawaiian salt to taste. Refrigerate for 3 hours. Serve with poi.
Notes: Humuhumu 'ele 'ele, uhu and 'aweoweo are reef fish available only in Hawai'i.
'Opihi, limpets which taste similar to oysters, can be substituted with small mollusks such as clams and mussels.
'Inamona, or kukui nuts, can be substituted with toasted, crushed macadamia nuts.
Hawaiian salt, also known as 'alae salt, can be substituted with kosher salt.
POKE LINGO
AHI
Yellowfin (big eye) tuna.
AKU
Bonito (skip jack tuna).
'INAMONA
Roasted, pounded kukui nuts mixed with salt. An important condiment in the Hawaiian diet.
LIMU
Common Hawaiian term for seaweed. More than 350,000 pounds are consumed annually in Hawai'i.
LIMU KOHU
Small, red, spicy seaweed which grows on the edge of reefs. Rolled into balls for storage after cleaning.
LOMI
In Hawaiian, to rub, press, squeeze, mash fine, massage, rub out. The process of preparing salt salmon or raw fish by working with fingers.
OGO
Japanese word for limu manauea, a mild and delicate red-green sea- weed used in both Hawaiian and Japanese foods.
LU'AU
Hawaiian feast named for the taro tops always served at one, This is not the ancient name but goes back at least until 1856 when so used by the Pacific Commercial Advertiser. Formerly, a feast was called pa'ina or aha'aina.
PA'AKAI
Sea salt. Important in Hawai'i as a means of preparing food and as a condiment or relish. Traditionally gathered from the shoreline where it crystallized naturally from sea water. Pa'akai from different parts of Hawai'i is still greatly valued for its special characteristics of taste, color or purity. TAKO
Japanese for small squid.